Revolution in sector of virtual walks. We share new, extremely simple and cheap technology of creating virtual walks. For the price of one visit of external photographer you can create any amount of your own presentations by yourself.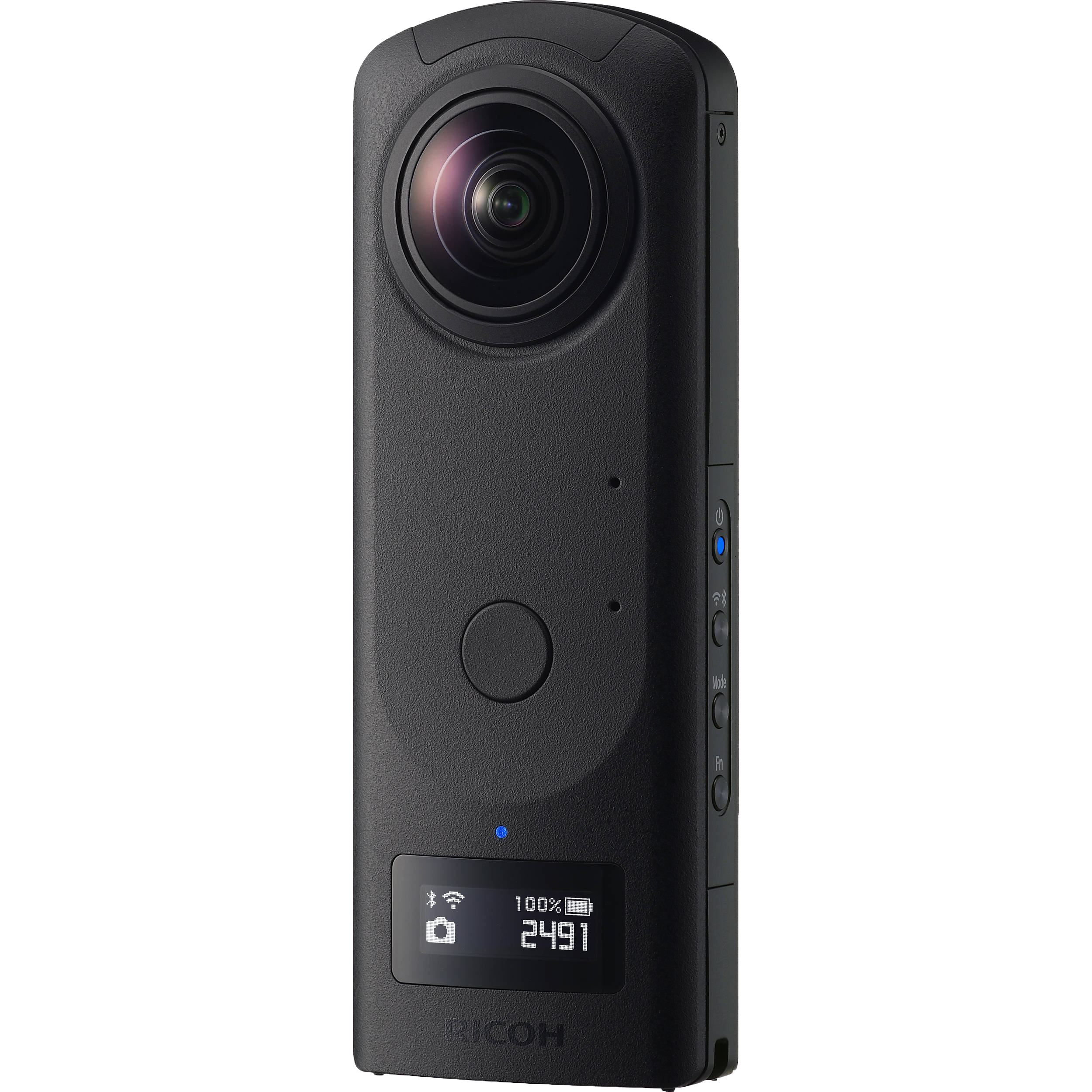 Make your advertisements stand out due to 360° panorama.
Surpass clients' expectations and present the offer better than your competition.
Galactica together with Ricoh Poland offers possibility of obtaining "Theta" device which while cooperating with Galactica Virgo application enables fast preparation and publication of virtual 360° visits/panoramas.
Creation of virtual tour has never been so easy:
the device is operated with just one button
making a presentation of a room literally takes just over a dozen seconds
you do not install any other applications
software is fully integrated with Galactica Virgo system
full mobility – compact size of the device, similar to smartphone
you do not have to take separate photos, they can be generated from panoramas
What you get in the package:
automatic presentation of walks on responsive websites
automatic export of walks to advertisement portals (in the form of a link)
application for creating virtual visits integrated with Galactica Virgo
extra 10 GB of account space to keep your panoramas and 40 GB transfer per webpage
safety – regularly made backups
Ricoh Theta device with accessories
a stand adjusted to the device
Along with development of the Internet and popularisation of www, usual website or a usual photo is very often not enough to persuade the client to buy a property. A photo taken by a traditional camera often does not reflect quality and style of the interior.
Exclusive virtual visit to your offers! Imagine a photo which does not end and thanks to it a client can feel as if he or she was standing in the property from your offer... Everything without leaving home, on a website.
We use the latest equipment to render services in the field of panoramic photography, mostly aimed at real estate agencies, service providers, hotels and travel agencies.
We offer both economical solutions and advanced functions enabling to choose appropriate type of service to the standard of a presented property. Many years of experience in delivering dedicated solutions to real estate market, few hundred virtual visits implemented for real estate agencies, the latest equipment and experience of our photographers guarantee fast realisation of orders. The result of our work is professional preparation of your offer which will not go unnoticed.
Photos in the form of virtual walks are perfect for presentation of properties offered for sale or rent and also any other objects. It can be interior or area around a building. Due to simulation of spatial photos and "free looking effect" we achieve the impression of presence at viewed place.
Virtual tours to interesting spots.
Sightseeing of different places in any area of the world without leaving home is a tempting alternative. We will not be able to go everywhere. There will not always be time, and even if we go somewhere we can check this place first. Thanks to panoramic photography and computing there are more and more so called virtual trips due to which one can visit a given place on his or her computer screen.
Virtual trips are also fantastic marketing medium to promote cities and municipalities. Popular presentations which are available on the Internet enable attractive depiction of any place pointing out the advantages and beautiful views effectively. High resolution photography, use of HDR (higher tone range of photos) and computer processing make it possible to achieve extraordinary impression and quality of presented scenes.
There is one more way to use virtual trips - navigation. Thanks to complete presentation of a given place with the use of any number of photos taken at appropriate points, a virtual trip can be used as a virtual navigation map. Future guest can walk and have a closer look at the scenes with help of such map. In addition to that there can be various infopoints and navigation marks applied (e.g. arrows for directions) indicating passageways to chosen scenes or specific places from the selection list. Such comprehensive visualisation will be perfect for presentation of a holiday resort for instance.
Virtual trips have a broad range of application e.g.:
flower, botanic and zoo gardens
traditional and open-air museums
city markets and town squares, walking areas and promenades
parks and gardens for trekking
holiday resorts - especially in terms of presentation of recreational area around the place